Ready-to-use mixture of sodium bicarbonate and original salt for the preparation of a slightly basic saline solution for the preparation of low-carb & gluten-free lye pastries
Ingredients: Sodium hydrogen carbonate (baking soda), rock salt
Contents: 1000 g (For 10 portions of pretzel pastries)
Preparation of the lye
Production of 500 ml lye solution for low-carb & gluten-free lye pastries:
Heat 100 g Laugenfix and 500 ml water in a pot until the solution foams. Remove from the stove and use immediately.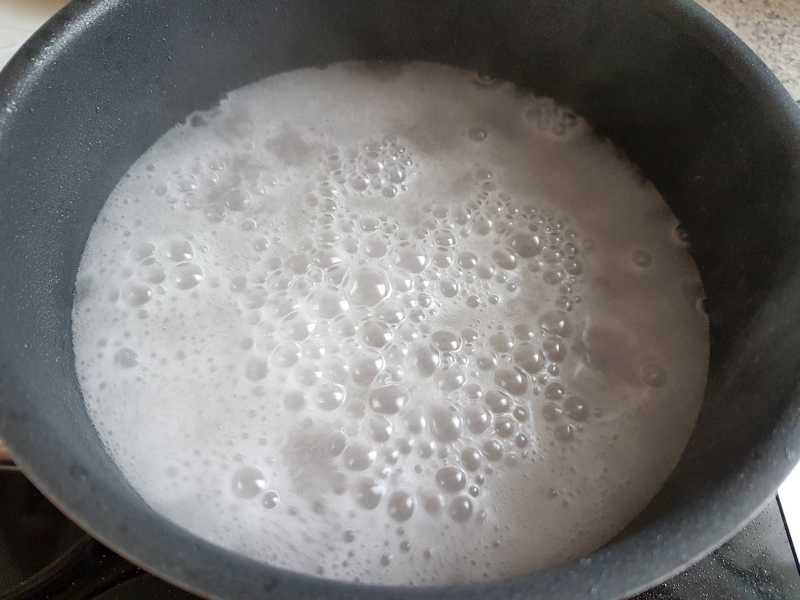 ATTENTION: Avoid contact of the ready mix and the ready lye solution with the eyes. In case of eye contact rinse thoroughly with water. Use only for the production of lye pastries, do not consume directly. After use, dispose of in a drain.
Note: this is only a slightly alkaline saline solution, which is completely harmless, but causes a strong burning sensation (similar to sea water) on contact with the eyes. However, skin contact with the dry mixture or with the cooled solution is completely unproblematic.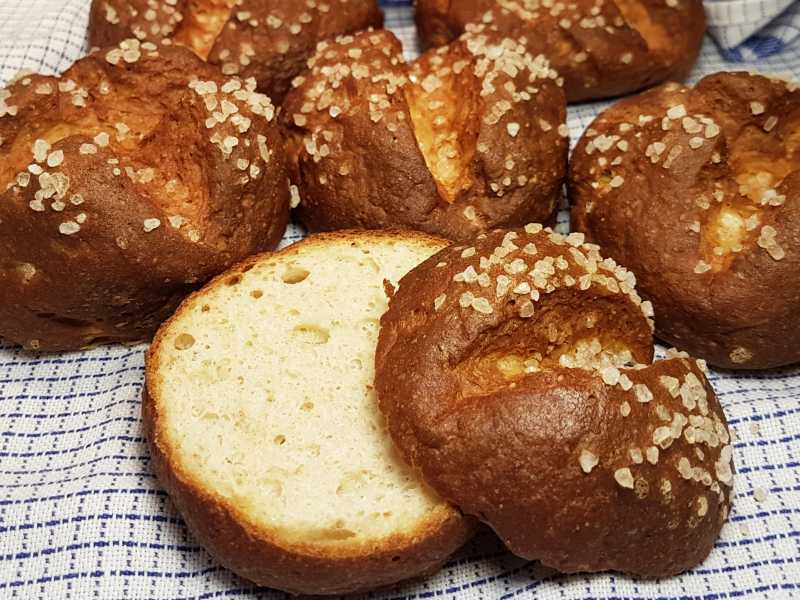 Recipe for lye pastry from the low-carb & gluten-free Dr. Almond baking mix "Toast bread
You need:
230 g Dr. Almond toast baking mix
500 ml freshly prepared lye solution (see above)
1 bag of dry yeast or 1/2 cube fresh yeast and 1/2 teaspoon honey or sugar to activate the yeast
optional: 1 egg for spreading and some coarse salt for sprinkling
Preparation:
Dissolve 1 sachet of dry yeast or 1/2 cube of fresh yeast with 1/2 teaspoon honey or sugar in 450 ml warm water (max. 40 °C), cover and let rest for approx. 30 min until the yeast foams.
Add the baking mixture while stirring constantly and continue stirring for approx. 1 min.
Shape the dough into several rolls, sticks or pretzels with wet hands.
Heat the lye solution and remove the pan from the heat.
Add the dough pieces one by one with a ladle to the lye solution, turn once after 3 seconds and take out after another 3 seconds. Optional: Whisk 1 egg and turn each dough piece individually in it. Sprinkle with coarse salt.
Finally, place all the dough pieces on a baking tray lined with baking paper and bake at 150 °C for approx. 60 min with fan-assisted oven or approx. 70 min with top and bottom heat. Important! Keep oven door closed during baking! Then allow to cool down on a grid.