Ready-mix for creamy low carb ice cream with sweeteners, high protein, ice cream mix for all ice cream flavours
INGREDIENTS: Free-range egg white powder, milk protein powder, erythritol, citrus fiber. Contains less than 2 %: rock salt, sweeteners sodium cyclamate and sodium saccharin, Bourbon vanilla, natural thickener xanthan gum, antioxidant ascorbic acid (Vitamin C).
We recommend preparation with an ice cream machine!
Preparation: Mix heavy cream, water and other liquid ingredients (see below ICE CREAM RECIPES) in a tall mixing bowl with a hand blender (recommended) or a whisk. Add the Ice Cream Magic (and where required other solid ingredients) and continue stirring thoroughly for at least 2 min. Cool the freshly prepared ice cream mixture to refrigerator temperature and fill into your ice cream maker. We recommend to always prepare the ice cream freshly and enjoy immediately.
Freezing: Ice cream containing high-quality fats like butter fat (from the heavy cream) is solid at common freezer temperatures of – 18°C. Before consumption place the ice cream in the refrigerator for 1 – 2 hours and allow to defrost to approx. – 5 °C. Do not freeze again. Tip: Freeze directly in small portions.
Preparation without ice cream maker: Fill the freshly prepared ice cream mixture into a closable container and place it into a freezer. Continue stirring every 30 min until desired consistency.
Ice cream recipes: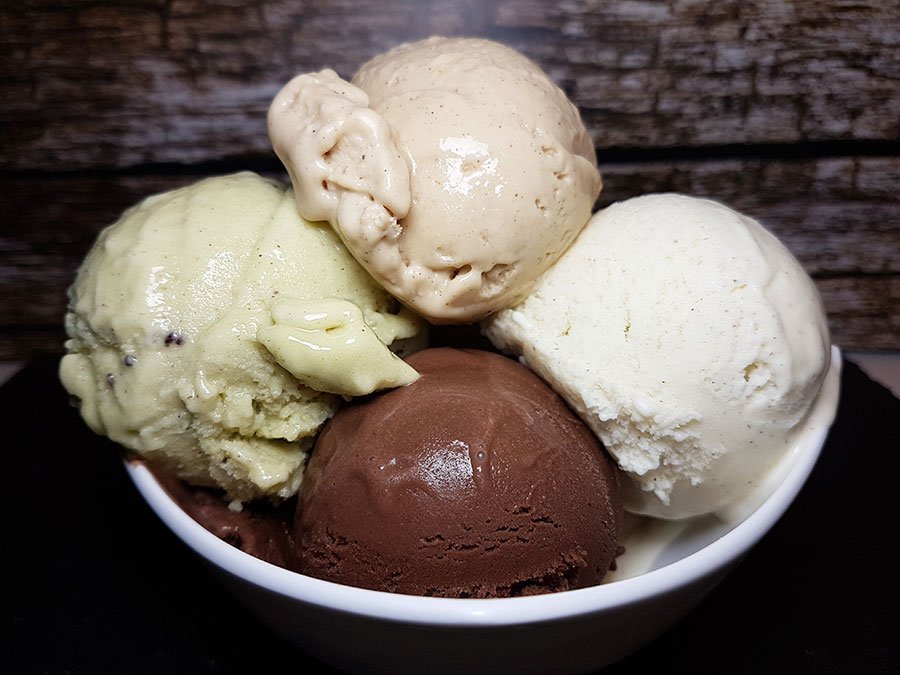 Vanilla (600 g)
100 g Ice Cream Magic
300 g heavy cream
200 g water
Chocolate (580 g)
100 g Ice Cream Magic
250 g heavy cream
200 g water
30 g cocoa powder
Strawberry (700 g)
100 g Ice Cream Magic
300 g heavy cream
300 g strawberries (pureed)
Hazelnut (650 g)
100 g Ice Cream Magic
250 g heavy cream
250 g water
50 g hazelnut butter
Coconut (650 g)
100 g Ice Cream Magic
250 g heavy cream
250 g water
50 g coconut butter
Eiscremezauber / Ice Cream Magic
Durchschnittliche Nährwerte / Nutrition Facts
Pro / per 100 g Trockenpulver / dry powder
Pro / per 100 g verzehrfertiges Eis / prepared product

Vanille / Vanilla
Schokolade / Chocolate
Erdbeere / Strawberry
Haselnuss / Hazelnut
Kokosnuss / coconut
Brennwert / Energy (kcal)
217
194
192
180
208
210
Brennwert / Energy (KJ)
909
812
805
754
872
880
Fett / Fat (g)
0.5
16.3
15.2
14.1
17.7
18.1
ges.FS / sat. Fat (g)
0.2
10.2
9.5
8.8
8.5
13.0
Kohlenhydrate / Carbohydrates (g)
36.1
7.7
8.1
9.0
7.1
7.3
Zucker / Sugars (g)
2.3
2.0
1.9
3.8
1.9
2.1
Zuckeralkohole / sugar alcohols
33.7
5.6
5.8
4.8
5.2
5.2
Verwertbare Kohlenhydrate / net carbs
2.4
2.0
2.3
4.2
1.9
2.1
Ballaststoffe / Dietary Fiber (g)
4.1
0.7
2.1
1.4
1.6
1.4
Eiweiß / Protein (g)
49.5
9.5
10.6
8.4
9.7
9.2
Salz / Salt (g)
0.9
0.2
0.2
0.2
0.2
0.2