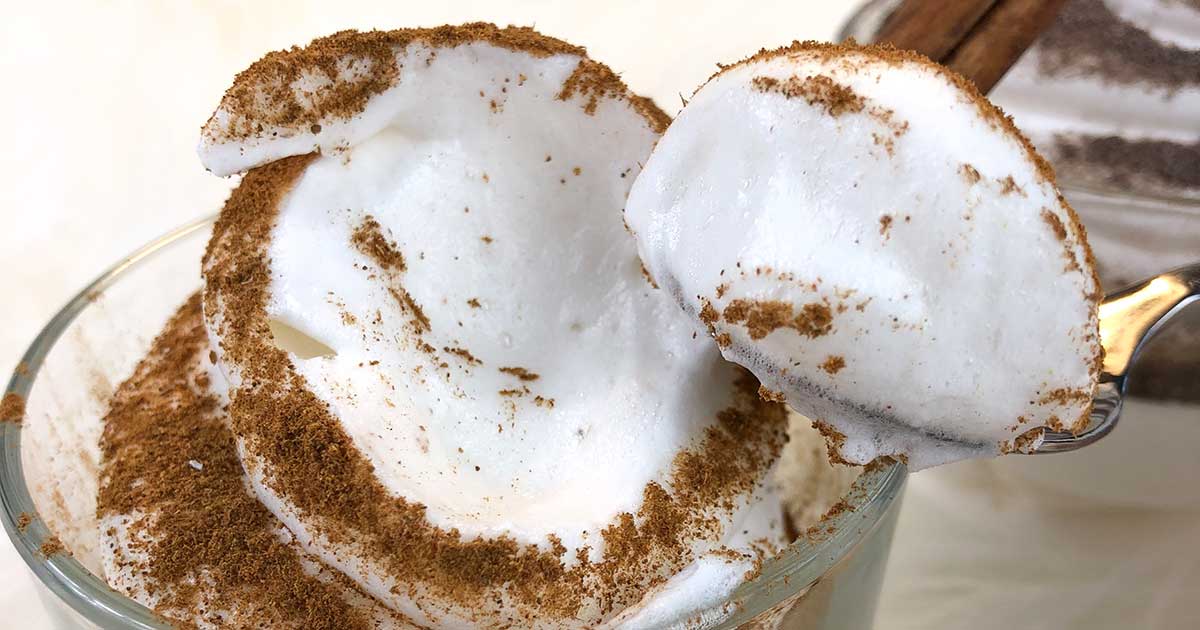 Almost everybody's talking about protein fluff or egg white fluff! A fantastic thing made from protein – low in calories and low in carbs.
We took a closer look at the ingredients. In most of the cases, these protein fluffs are made from fiber syrup (tapioca syrup).
However, most people WON'T realize that those syrups contain isomalto-oligosaccharides (IMO). They'll affect your blood sugar level almost as strongly as dextrose does!
Please read our detailed article on this subject HERE! You will be surprised!
And here comes our recipe for a healthy and cheap alternative to make a fluff that will cost you only 95 cents per serving – and with our saver bundle (CLICK) it's just 85 cents!
All you need is Egg White Protein Powder AND FLUFF MAGIC to produce an amazing protein fluff à la "ALMOND". We use exclusively egg white powder so that you won't have to worry about salmonella because we leave no egg yolk!
The fluff can be stored in the fridge for a couple of hours or you freeze it, you can even use it to prepare meringue.
MERINGUE (CLICK HERE)
Recipe Protein Cream Protein Fluff Egg White Fluff - keto low-cal NO IMOs
Our "Almond" protein fluff – a quick and super tasty treat with just 24 kcal and 1g net carbs per portion!
Ingredients
60

g

water

to prepare liquid egg white

70

g

water

to dissolve Fluff Magic
Instructions
First mix egg white powder with 1/3 of the water and let swell for 15 minutes while stirring occasionally, then add the remaining water.

Use a mixer or food processor and stir the egg white on the low power setting first until creamy, then whisk it up to firm peaks at highest speed. Please ALWAYS use glass or premium steel kitchenware – the fluff won't turn out as perfect as it should when using a plastic mixing bowl!

Briefly boil up 50g Fluff Magic with 70ml water.

Immediately and gently pour the mixture in a thin stream into the beaten egg white and whisk at full speed. Continue stirring for 1 minute. This makes the fluff more voluminous. The longer you stir, the firmer the mass! Best results are achieved with a blender!!

Now you can add fruit powder, pure flavours, vanilla, spices a.s.o. – just as you like. Please DO NOT add fat-containing foods such as cocoa powder, as the fluff would fall. Fat and beaten egg white do not get along with each other. Fold in fatty ingredients only very carefully.

IMPORTANT! Ingredients for the fluff are available in our shop only as saver bundle – see link below!
Nutrition
Calories:
24
kcal
Carbohydrates:
1
g
Protein:
4
g
Fiber:
2
g
HOW TO PREPARE beaten egg whites from egg white powder
Mix egg white powder with 1/3 of the water using a fork. The egg white powder will get very lumpy – but that is normal! Due to the low quantity of water, the powder can be blended quite well with a fork. Break up any lumps so that all the powder comes into contact with the water and leave to swell. Mix again after approx. 15 minutes, now everything is ready to be formed to a thin, homogeneous paste. Then add the remaining water and stir again thoroughly. The freshly prepared egg white should be as free as possible from lumps before beating it up – if in doubt, please wait a little bit longer until everything is dissolved.
Then whisk the mass using the beater (of a blender or food processor) as usual.
You'll get the ingredients for the protein fluff HERE AS A SAVER BUNDLE >> (CLICK)
Fruit powder as topping is also the big HIT – AVAILABLE HERE IN AN ADVANTAGEOUS SUPER SAVER BUNDLE à 200-gram pack >> (CLICK)